Emery Painters and Decorators
Please leave Emery Painters and Decorators your feedback below.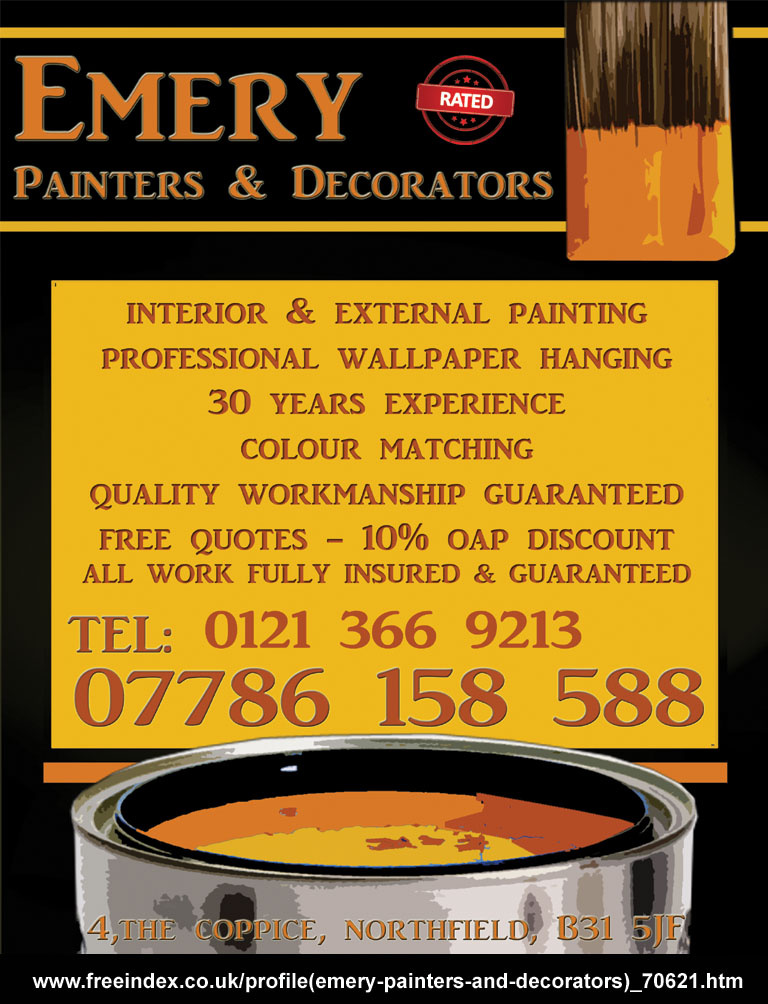 Emery Painters and Decorators have just finished completely decorating my main bedroom. They worked quickly and cleanly bagging up all rubbish and taking it outside. They lined my walls and ceiling and painted them, as well as painting all woodwork and radiator. The finished appearance of the walls and ceiling is excellent, you could think you were looking at painted plaster that had been skimmed. The price was favourable compared to other quotes and the gaffer and his mate are very helpful friendly guys. I recommend them for one of your awards.

Paul Cummins
We are so happy with the decorating of our hall and stairs Mick and his team Dee and Jim.


Were so obliging nothing was too much trouble and they cleaned up every day before they left and they were always prompt and kept us informed with every detail of the job cant praise them enough
David Handley bham


Very good work man ship would highly recommend him.


Mick's team did a great job painting our kitchen and woodwork. Everything looks fresh and clean. They took good care not to get paint everywhere and the quality of the finish was fantastic. Would use again for future jobs.


Very professionally done, very pleased with the work. I would recommend the company.
"I found both Mick and Matt good workers and very reliable. I would recommend these tradesmen to anyone who rquired a good painter and decorator."

I have no complaints, was an excellent job and would recommend Mick to anyone who asked.

i would recommend this tradesman to carry out work he has done a great job for me and i will be calling on him again soon.

Mike and his colleagues decorated our five bedroom house from top to bottom, bedrooms, hall, bathrooms, stairs, lounge, dining room and kitchen. It was a frantic two week schedule that had to accommodate our little doggies needs too. I must say that the whole job was carefully handled, with a couple of troublesome ceilings painted several times to get the required covering, at no extra cost. I have already recommended mike's expertise to our neighbor with no reservations. Thank you mike for a great job, well done.

They completed an excellent job, kept the area free from mess, cleaned the windows afterwards and also renewed paintwork not in the original quote (doing over and above). Extremely satisfied

Quality of work men was very good. Service overall was exceptional. Our living room now looks superb. Walls ceiling wood work all completed to our satisfaction. Good work men and a good boss