Evans Roofing & Building Services
Please leave Evans Roofing & Building Services your feedback.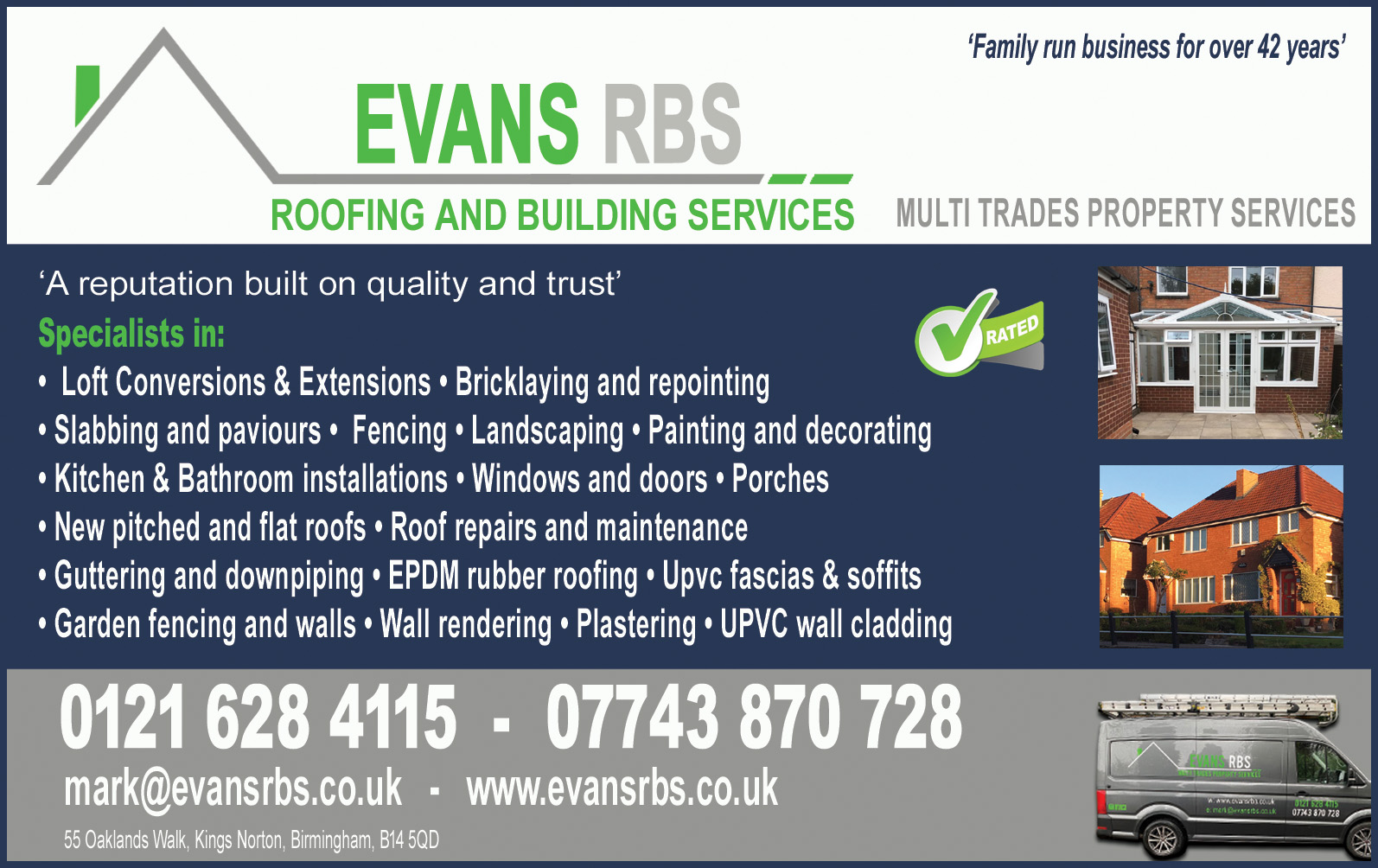 Tom from Solihull
Mark and Paul just put new roof on the back of our house. Excellent job done, with attention paid to detail. Good value, with reasonable charges for extras we got them to do (fascias, guttering etc) while they were here. Kept the area clean and tidy while they were working/before they left each night. Would recommend highly! Will use again.
Mat (Northfield)
Mark has done us proud yet again, ove rthe last five years he has completed numerous projests for us, the last one being a new downstairs bathroon, new porch, new windows and facias/guttering. The quality of the work is outstanding, the attention to detail is awesome and the finished work is breathtaking, and finally it is the right money! I cannot recommend him any higher, he will definately be called for any more work we require.
Carl and Trudi, Bournville
Mark put a new roof on my mum's stable and pointed all the walls. The stable was very old and in a poor condition and it now looks fabulous - just like new. My mum is so pleased with the work. Mark was reliable, came when he said he would and was quick and efficient. My mum is elderly and he cleaned up really well. Thank you very much!
Name: Susan (Kings Norton)
Mark put a completely new roof on my house, including a flat roof. I am delighted with the end result. He was totally reliable and very courteous and everything was very clean when he left the job.
name: Colin king/Colette Preece
rating: 5 Star
feedback: Mark and his team replaced the roof, fascia, soffits, guttering and down pipes at our home in Kings Norton. They also replaced the cladding on the back of the house.
Their work ethic has been exceptional, arriving at first light and working solidly till the light was fading. They are the cleanest workers we have ever come across, clearing up completely at the end of each day and when they had finished they even cleaned the windows! Fabulous workers, we will recommend them to anyone who wants work done. Fabulous. Thank you Mark and team

name: Ian Small
rating: 5 Star
feedback: Mark and his team have completed several projects for us, including a front extension with Porch and his latest being my loft boarding. Mark will be back shortly to do work on our roof. We have no hesitation in recommending Mark. His manner is professional and his work is clean and always completed to the highest standard.

name: Anne Goodridge
rating: 5 Stars
Feedback: Exceeded my expectations. Replaced my old roof really quickly and for a very reasonable price. Kept a nice tidy site whilst here. Turned up on time, kept me in the loop and were generally helpful and polite. New roof looks great! Highly recrecommended.