Please leave KMH Plumbing Services your feedback below.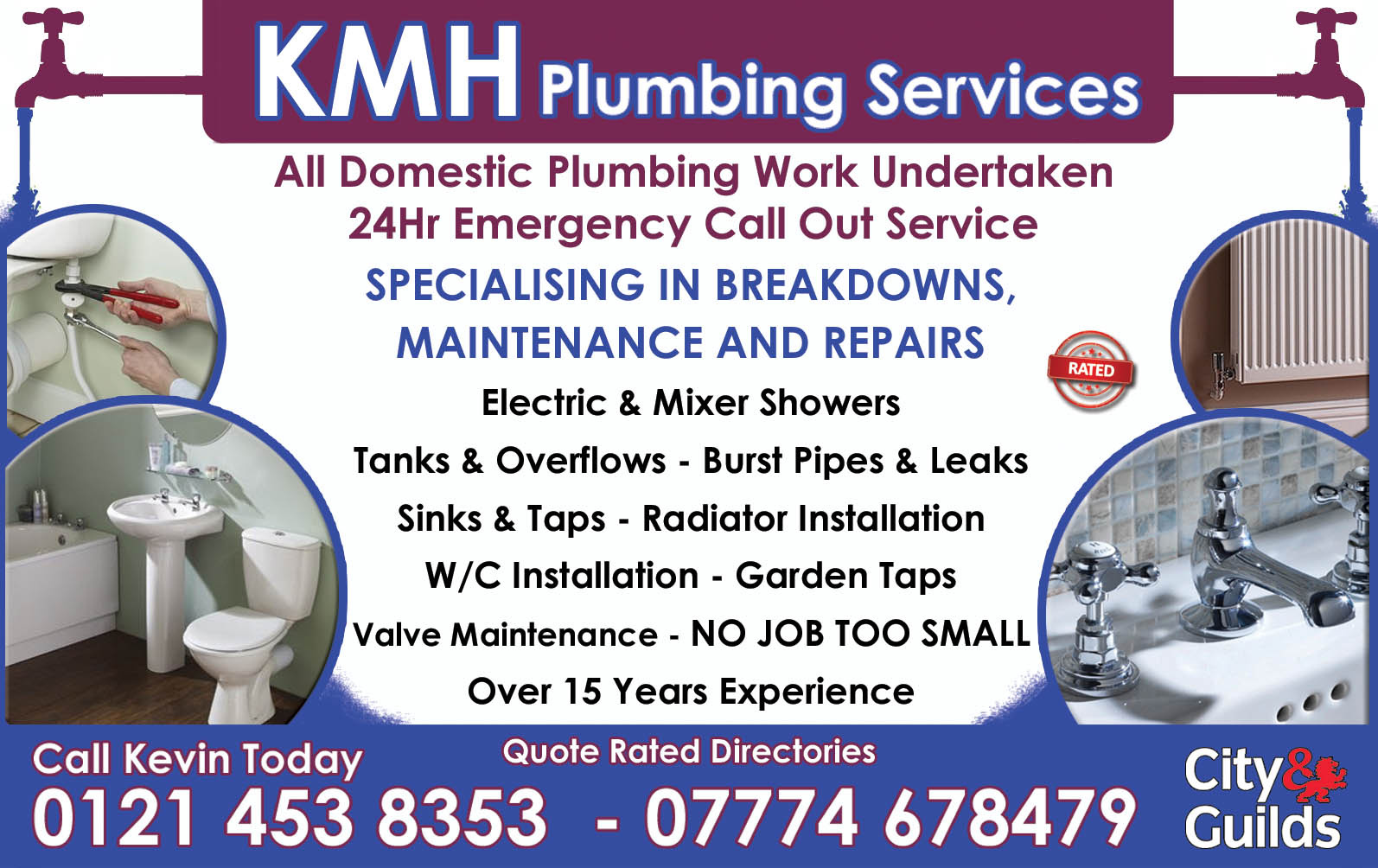 I called Kevin this afternoon to do some work in my home in weoley castle. Kevin arrived on time looked at the job gave me a very good quote and did the work to a very high standard at the agreed price and may i add all with a smile on his face very pleasant to have around would recommend highly.
Mr Williams - Weoley Castle
We received our rated directory the other day which was handy as i was looking for a plumber. I called KMH Plumbing services who came out very promptly and did the work for us. we paid less than i thought we would have, Kevin was very helpful and did us the job to a very high standard would defiantly use him again.
Mrs Whitehouse
Kevin came out to our house yesterday afternoon to fit a new loo. he supplied the toilet and did a really tidy job fitting it all for the price quoted. Kevin was very pleasant and professional would recommend to anyone looking for a plumber.
Mrs Harwood
Name: Mr Thorpe
Comments: Kevin came to our home today to repair a leak on our toilet cistern,he arrived on time which is always a bonus,gave us a fair quote which we accepted,and did the work all within 2hrs..spot on!!! would reccomend
Name: miss Butcher
Comments: kevin came to our house today at the agreed time gave us a quote for the work we wanted doing which we thought was great.he did the job there and then to a very high standard would definatley use again and recommend to my friends and family
Name: mr southall
Comments: Kevin has done various jobs for me and our neighbours he always does a good job he is a very nice chap who is pleasent to have around.his work is always top notch and never more expensive than what he quotes. will always use KMH. very pleased
Name:
Comments: Kevin carried out some work at our home in Selly Oak yesterday. He came out quickly and fixed the toilet in a very short time. He was professional and friendly and the price was very reasonable. We would definitely recommend him.
Name: Marion Galbraith
Feedback: Phoned Kevin about water not draining away from the bathroom sink. He attended to the problem and charged a very reasonable price for the work. A year or 2 ago Kevin also fitted a small water heater to the downstairs toilet. I will certainly recommend Kevin as he does an excellent job and is always pleasant to have around.
Name: Miss Peters
Feedback: Kevin responded very quickly to a broken shower that couldn't be turned off. He isolated it and was very helpful if finding the right part to fit (not standard). He showed up on time for both visits and completed the job exactly as he promised. I will be keeping his number!
Name: Mrs Davies.
Feedback: Kevin was great came out very quick repaired bathroom sink tap which was dripping very good.small job great would tell all my friends.thank you Kevin.
Name: Kathleen
Feedback: Kevin fitted a new kitchen mixer tap and repaired a toilet. He is very efficient and did a good job with a reasonable price. He is pleasant and friendly. I would definitely recommend KMH.
Name: R & B Goode Rubery
Feedback: Kevin came round to our home very quickly, when we had water dripping through the ceiling. He soon traced the problem (which turned out to be a leak from the loo) and sorted it for us. We think his charge for the job was very reasonable, less than we had anticipated. Kevin was quick, friendly and very efficient. Would recommend him to anyone
Name: Dr Hosty, Harborne
Feedback: Kevin arrived on time and carried out the work (a new valve in the toilet cistern) quickly and without any mess or fuss. He was pleasant to deal with, and his answers to queries about the work were really helpful. I would not hesitate to recommend him.
Name: Ms. Timmins
Feedback: Called at for an emergency at short-notice. Turned up on time and was pleasant and professional. Very helpful. Would highly recommend Kevin to anyone.
Name: Mrs Bailey
Feedback: Kevin arrived promptly, at fairly short notice. He's efficient and knows what he's doing. He's a real plumber who works for himself. He replaced the inside of the toilet. He was tidy and just got on with the job. Highly recommend!

Name: Kathleen
5 Star
Feedback:I called Kevin this morning for a dripping kitchen mixer tap.He has replaced it quickly and efficiently. He is friendly and professional. This is the second time he has done work for me and I can highly recommend him.

Name: Mytton-Quinton
5 Star
Feedback: Saw KMH reviews and contacted Kevin to fix leaking kitchen mixer tap. Diagnosed problem (worn out),sourced new tap and fitted it. Excellent service all round.